Devolutions
Remote Desktop Manager
Met Remote Desktop Manager kunt u al uw externe verbindingen, wachtwoorden en referenties centraliseren in een uniek beveiligd platform waar mensen graag mee werken.
Remote Desktop Manager is een kleine toepassing die wordt gebruikt om al uw externe verbindingen en de virtuele machines te beheren.
Toevoegen, bewerken, verwijderen, gedeeld, organiseren en uw externe verbinding worden snel gevonden.
Compatibel met Microsoft Remote Desktop, Terminal Services, VNC, LogMeIn, Team Viewer, FTP, SSH, Telnet, Dameware, X Window, VMware, Virtual PC, PC Anywhere, Hyper-V, Citrix, Radmin, Microsoft Hulp op afstand, Sun Virtual Box en nog veel meer.
Bestel de Remote Desktop Manager Enterprise Single License
klik hier of op het onderstaande plaatje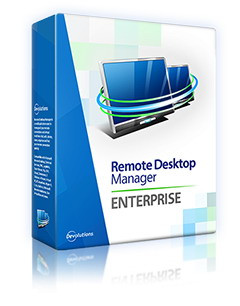 Remote Connection Types
Credential Repository
Remote Desktop Manager simplifies connection management by allowing automatic login for various types of sessions, including:
Remote Desktop (RDP)

Terminal Services

Citrix (ICA / HDX)

LogMeIn

Web site (IE and embedded Firefox)

Putty

TeamViewer

Ftp

HP RGS

VNC

VPN

Dameware Mini Remote
Use the quick connect feature to quickly access a remote machine using Microsoft Remote Desktop, VNC or a web page.
Simply enter a host name or IP address.
You can even create your own custom template to use any other sessions type.
Import Sessions from Other Applications
Remote Desktop Manager lets you easily import sessions from any other remote connection management tool that you use.
A number of tools are supported by default, plus you can install one of our many free add-ons for addition support.
Supported applications include:
Boztech VNCScan
Filezilla (via add-on)
Microsoft Remote Desktop Connection Manager
mRemote
Terminals
VisionApp Remote Desktop
Keepass
WinSCP (via add-on)
If possible, the application tries to keep the maximum amount of data, including the password (when it can be extracted from the original configuration).
Meer informatie op: Remote Desktop Manager